Two-phase Orthodontic Treatment
Why does my child need two-phase treatment?
When recommended by Dr Atique, your child could benefit from two phases of orthodontic treatment. The goal is to create a better environment for your child's permanent teeth.
A first phase of treatment is initiated to:
Prevent a problem from developing (preventive treatment),
Intercept a developing problem (interceptive treatment),
Guide the growth of the jaw bones that support the teeth (growth modification).
Without this first phase of treatment, your child problem, if left alone, will create an unhealthy environment for the growth and development of you child's teeth, gums, jaws and face. The American Association of Orthodontists recommends that a child first visit to an orthodontist be scheduled at age 7.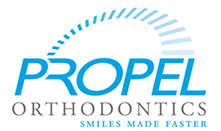 In our continuous effort to provide the very best orthodontic treatment for our patients, we are proud to use PROPEL® technology in our practice. PROPEL "fast tracks" orthodontic treatments for both braces and aligner treatments. This exciting technology allows us to get most patients finished in reduced time. While each patient varies, many patients can now have their orthodontic treatment completed in shorter time.
PROPEL® works with the patient's own biology by stimulating the bone surrounding the teeth; helping the teeth to move faster and more predictably into their ideal position. This allows patients to see their new smiles faster and requires fewer office visits to our office. We provide PROPEL for Invisalign and traditional braces treatments and always offer complimentary consultations to all. Ask Dr. Atique about Propel Today!